The OnlyFans model detailed her journey going under the knife across her social media profiles, sharing that she "could not be happier" with the results of her surgery, which she's said she's wanted to get since she was 10 years old.
Sami Sheen has revealed she's undergone breast augmentation surgery — just a few weeks after her mom, Denise Richards, said in an interview that she was trying to persuade her daughter against getting the procedure.
On Wednesday, the 19-year-old — who is the daughter of Denise and Charlie Sheen — documented her journey going under the knife across her social media profiles, sharing posts on Instagram, TikTok, and Snapchat.
On her Instagram Story, Sami posted a photo of herself wearing a green hospital gown and blue bonnett. Alongside the shot, she wrote, "guess who got a new rack todayyyy."
Meanwhile, the OnlyFans model also shared a photo on her Snapchat that featured her holding up her shirt and showing her incisions and surgery markings. Sami went on to post a shot of herself being wheeled out of the hospital after her procedure.
The online star also shared a shot of herself wearing pajamas in bed while hooked up to an IV post-surgery, writing over a TikTok photo: "back home now super happy & loving whatever they put in my IV."
"i finally did it!!! 🥰 could not be happier omg," she captioned her TikTok slideshow.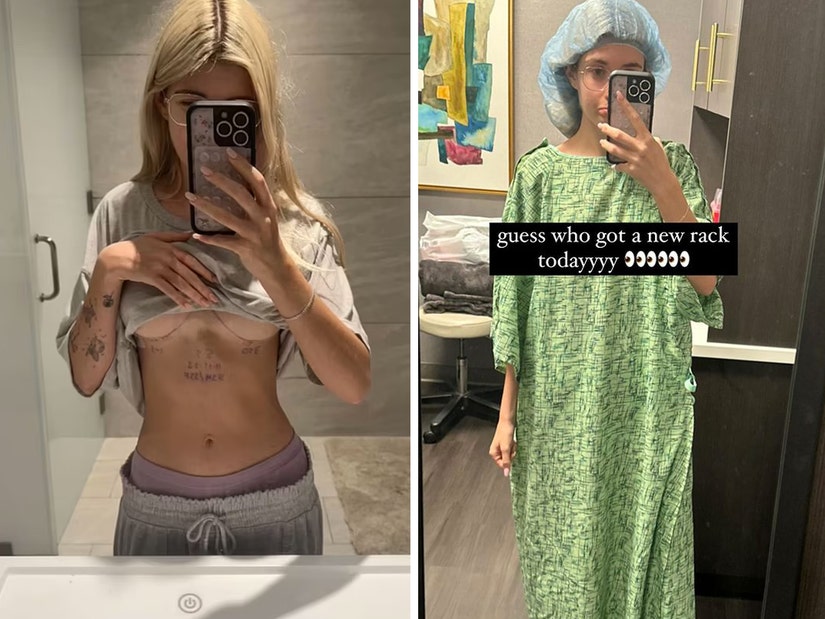 Instagram
The night before her surgery, Sami shared a TikTok video in which she expressed both her excitement and her anxiety over her surgery, admitting that she "so f–king nervous," particularly because she had never been under anesthesia.
Sami previously opened up about her desire to get a breast augmentation, sharing back in September that she had to quit vaping in order to have the surgery. At the time, Sami admitted undergoing the procedure might "save my life" because she had to stop vaping, revealing she's struggled with nicotine addiction for five years.
However, despite her longtime desire to get a boob job, Sami's mom Denise expressed in a joint interview with Bustle last month that she was "trying to talk her out of it," revealing plans to get her own implants removed after she had the same surgery when she was Sami's age.
"I was 10 years old and like, 'I can't wait to have big boobs like my mom,'" Sami told Bustle, noting that she planned to get D cup implants. "All my friends were getting boobs, and I was just like, 'OK, when's it my turn?' I would always stuff my bra with socks and stuff."
While Denise said she understood where her daughter's desire to get a breast augmentation came from, she still tried to convince her not to get it.
"I was made fun of as a teenager [because my boobs] were mosquito bites. I got them done at the same age Sami is wanting to get them done," Denise, 52, explained. "I'm trying to talk her out of it because, and the reason why I'm getting them out, is I didn't know how toxic [they are] when I was 19. And it's not an easy surgery. It's painful!"
Although the Real Housewives of Beverly Hills alum may not have been on board with her daughter getting a bob job, she has publicly supported Sami's decision to join OnlyFans.
She has been creating content on the adults-only platform since June 2022, and Denise joined the app in solidarity with her eldest daughter shortly after.