"Abbott Elementary" star Tyler James Williams says that trying to "catch" someone who may be closeted creates "less safe" spaces for those who are gay, and limits individual expression for straight people who perhaps don't "reinforce an archetype."
Unfortunately and for years, Tyler James Williams has faced public scrutiny and speculation about his sexuality. And for just as long, he has patiently ignored the inappropriate and irrelevant speculation.
Now, the "Abbott Elementary" star has decided to weigh in on the conversation, but answering the baseless and unnecessary scrutiny is the smallest part of his thoughtful and poignant response, which instead addresses the very dangers of this type of behavior altogether.
"Usually I wouldn't address stuff like this but I feel like it as a conversation is bigger than me," he opened his lengthy statement, posted late Saturday night to his Instagram Stories.
After affirming that he's not gay, Williams quickly proved himself both an ally and advocate for those who are by continuing his statement with the assertion that "the culture of trying to 'find' some kind of hidden trait or behavior that a closeted person 'let slip' is very dangerous."
There could be many reasons that someone who is a member of the LGBTQIA+ community may choose to keep that fact to themselves, from personal choice to a real sense of danger should their truth be found out in the wrong circles (which can sometimes include their own family).
In a country growing ever more dangerous for LGBTQIA+ people to simply exist in, much less out and publicly, it is more important than ever to protect their choices — even if that choice is to keep this part of themselves to themselves.
"Overanalyzing someone's behavior in an attempt to 'catch' them directly contributes to the anxiety a lot of queer and queer questioning people feel when they fear living in their truth," wrote Williams. "It makes the most pedestrian of conversations and interactions in spaces feel less safe for our gay brothers and sisters and those who may be questioning."
But Williams didn't stop there, pointing out that this type of speculation and "gotcha" scrutiny can be harmful to straight people, too, and particularly men. "It also reinforces an archetype many straight men have to live under that is often times unrealistic, less free, and limits individual expression," he wrote.
There has for too long been this narrow guidelines of "masculinity" that many straight men don't fall into, while those same guidelines are often the baseline for trying to "catch" someone as gay.
"I've been very clear about the intentionality I try to put into using my platform to push back against those archetypes every chance that I get," continued Williams, asserting, "Being straight doesn't look one way. Being gay doesn't look one way."
"What may seem like harmless fun and conversation may actually be sending a dangerous message to those struggling with real issues," he continued. "I refuse to inadvertently contribute to that message.
The actor concluded his message with words of love and support "to all of my queer and questioning brothers, sisters, and individuals" for Pride month.
"I pray that you feel seen in ways that make you feel safe in the celebration that is this month," he wrote. "As an ally I continue to be committed to assisting in that where I can and helping to cultivate a future where we are all accepted and given permission to be ourselves."
Williams comments come at the start of Pride month and as there are 491 anti-LGBTQIA+ bills progressing through state legislatures across the country, as tracked by the ACLU.
These include bills target gender-affirming care, as well as attacks on drag performers reading to children in libraries, education curriculums, and even people wearing clothes in public that don't fit traditional standards for their sex at birth, which could target both drag performers on stage and transgender individuals anywhere in public.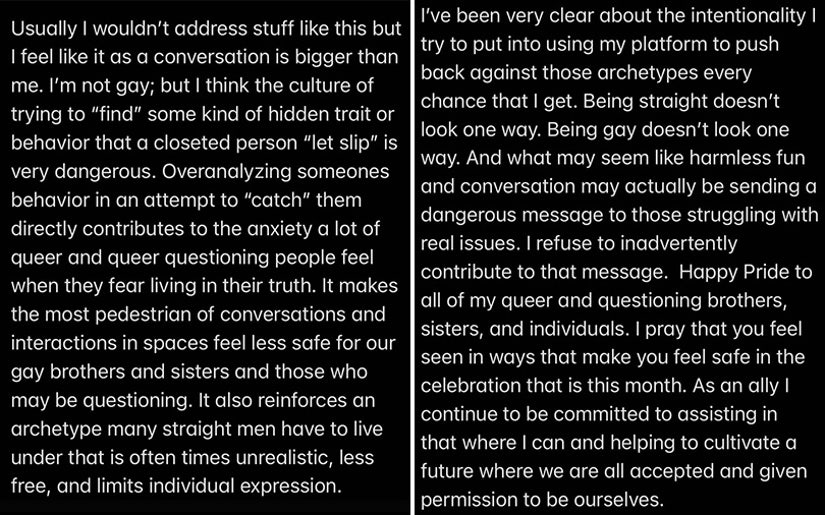 Instagram