"I fully understand and deserve ur anger & disappointment," Tom Sandoval writes to his Instagram, urging fans to not take out their frustration on his restaurant's employees or his partner, Tom Schwartz.
After a cheating scandal rocked the Bravolebrity world, "Vanderpump Rules" star Tom Sandoval has apologized — and asked fans not to take it out on his restaurant — leaving Lala Kent underwhelmed (and looking for more).
"I fully understand and deserve ur anger & disappointment towards me," he started a statement posted to his Instagram Saturday night. "But please leave Schwartz my friends and family out of this situation."
He went on to emphasize "Scwhartz specifically only found out about this very recently," adding that his business partner Tom Schwartz did not condone his actions.
TMZ broke the story that Tom and Ariana Madix had split after nine years together over allegations he'd cheated with "VPR" co-star Raquel Leviss. In a follow-up piece, the outlet detailed taht Ariana had discovered "sexual" texts and videos between Tom and Raquel that led her to believe he was cheating.
Apparently, Tom and Raquel had been seeing each other for months at that point, with some friends growing suspicious. Ariana, though, was reportedly completely blindsided by the revelation.
Tom's statement put a lot of concern and emphasis on his shared restaurant with Schwartz. He wrote that while the restaurant may have his name on it, "also there are 3 other partners and 20 employees, who especially rely on the restaurant for income for them and their families."
Waiting for your permission to load the Instagram Media.
According to TMZ, "Schwartz & Sandy's" was getting bombarded with so many negative reviews since the scandal first broke that Yelp has put a stop on allowing any more to come in.
He described himself as "a small part of a much bigger thing."
"Please direct ur anger towards me and not them," he continued. "They did nothing wrong." He then said he was sorry they had to suffer for his actions.
In his conclusion, Tom acknowledged that this initial statement was almost exclusively about his restaurant, a clear attempt to mitigate any potential fallout from his actions impacting his partners, staff and the bottom line.
"I need some time to address everything else," he wrote. "Sorry for everything."
The bar itself also released a statement of its own, sharing that they understand the outrage that's being directed at the restaurant but also echo Tom's plea that this outrage is misdirected.
Waiting for your permission to load the Instagram Media.
"Those of us who are not famous dedicated our time, hearts and money to make this restaurant a reality," the statement reads, also reminding its followers that "the livelihoods of others depend on this business."
"Please take into consideration, that posting negative comments affects more than just the individual you may be upset with," the restaurant urged.
As for Raquel, she has not reacted in any way to the ongoing scandal, while Ariana has deleted all of her social media, per Us Weekly.
Lala Kent quickly responded to Tom's statement in her Instagram Stories. She screenshotted the whole thing, adding the captions, "S*ndoval. Shut up," "Employees, abort mission." and "where's Ariana's apology in this? it's called narcissism… & it's terrifying."
Earlier, people apparently had started coming at Lala over her having hooked up with Raquel's ex-fiancée James Kennedy, so she jumped on her IG Stories to emphasize, "Let's not forget that reunion where R*quel said 'we really started our relationship after I moved in with him.'"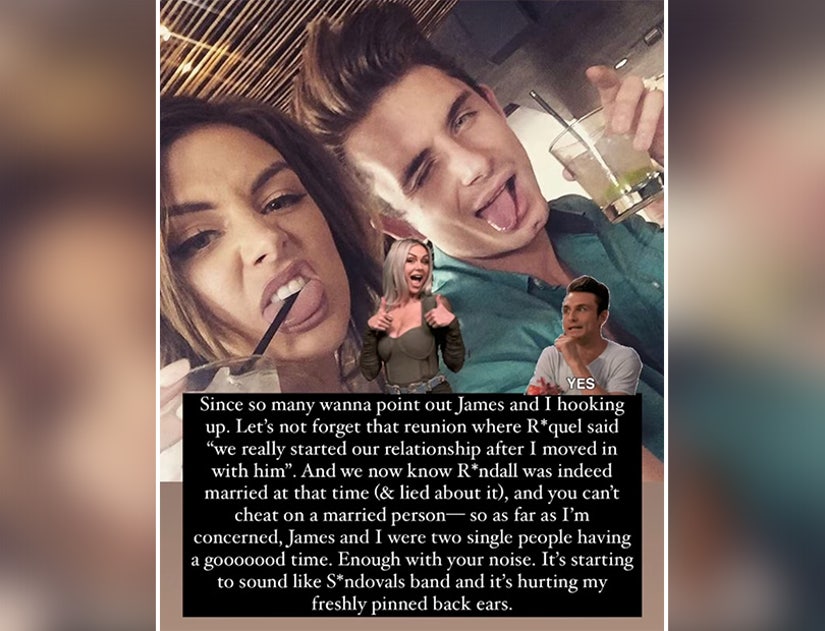 Instagram
"And now we knew R*ndall was indeed married at that time (& lied about it), and you can't cheat on a married person," she added. "So as far as I'm concerned, James and I were two single people having a goooooooood time."
She concluded this missing by snarking, "Enough with your noise. It's starting to sound like S*ndovals band and it's hurting my freshly pinned back ears."
Shortly after TMZ broke the story on Friday, James Kennedy — who was in a relationship with Raquel from 2016 to 2021 — weighed in on the shocking news, sharing a photo of the article to Instagram.
"Hope you all feel as sick as I do. This explains everything," James captioned the post. He then added in a comment, "read it and weep. Toms a f—ing creep!"
Lala replied to a user calling Tom and Rauqel "vile subhumans" on James' post, adding, ""I've been telling y'all. Everyone said I was a 'bully.' It's called YOU TRIGGER ME AND I SEE YOU FOR WHO YOU ARE! I've known these two are disgusting from the jump."
Jax responded to a fan on Twitter, who asked for his thoughts on the news. "I've called a lot of things on that show that people never believed… everything I say always ends being true..," he tweeted.
Doute also gave her two cents. Taking to her Instagram Stories, Kristen wrote that she's "#TeamAriana," before further elaborating in a short video.
"I don't know why I feel like I need to make this clear, but there's so many people right now wondering if this is making me happy," she said. "You guys, Ariana and I have been really good friends for many, many years now, so I'm Team Ariana, all day, every day. That's what's up."
Bravo king and host Andy Cohen took to Twitter, joking, "How many parts is too many parts for the #pumprules reunion???"
He also shared a video on his Instagram Stories on Saturday, admitting that he's just "as rivetted and upset and [is] thinking about this 'Scandoval'" as everyone else. "It's nap time over here," he said. "I just woke up from a nap. I dreamt about Ariana. Everybody's on my mind."
This new twist in the lives of the "VPR" cast comes after a series of romantic entanglements for Raquel, who was already making headlines for some of her post-James hookups. (Click here to see a full breakdown of all the Raquel drama … so far.)
Season 10 of "Vanderpump Rules" premiered last month, with weekly episodes dropping on Wednesdays. However, production sources told TMZ that after Ariana and Sandoval split, producers resumed production in the hopes of catching the aftermath of the breakup and Sandoval-Raquel alleged cheating scandal on camera. Producers reportedly want to try to add the footage into Season 10, despite the fact that the season is currently airing.