Fox shares text messages, a sexy bikini photo and debuts a new 'do.
Megan Fox is getting real with her Instagram followers.
On Friday and Saturday, the actress shared a variety of posts to her Instagram Stories, posting new sexy photos as well as giving insight into what she likes in relationships.
In one sizzling photo, Fox, 36, showed off her toned figure in a teeny, orange bikini, with her curves on display. As shown in the pic, in which she didn't show her face, the "Transformers" star posed in the two-piece bathing suit, pulling up the strings of the bikini bottoms with her hands.
Fox went on post more photos, in which she debuted a stunning new hairstyle. Instead of her dark, long locks, the "Jennifer's Body" actress can be seen rocking a blonde lob with blunt, fringe bangs.
Fox shared two shots of new look, with the photos appearing to have been taken in an on-set trailer. It's unclear whether or not the new 'do is a wig, but either way, she looks amazing.
Check out the photos, below!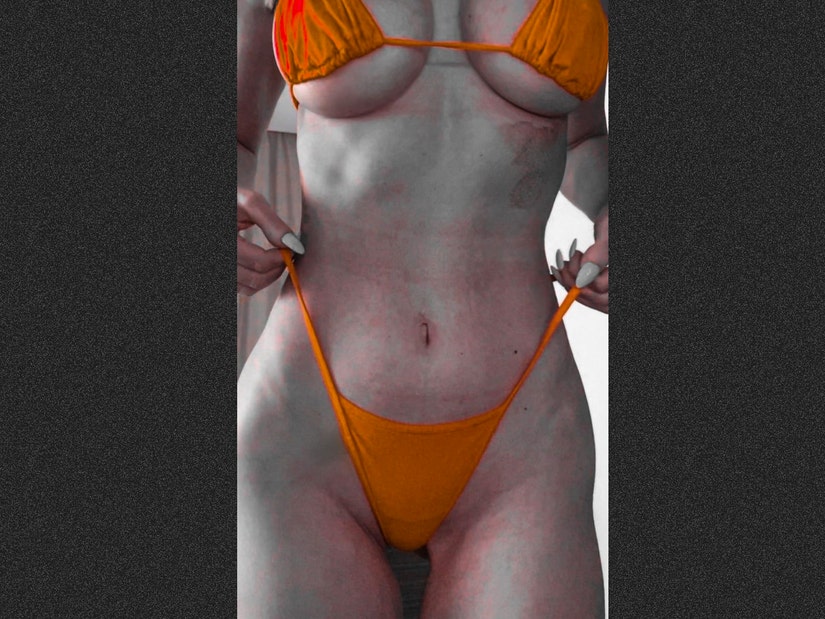 Instagram
Meanwhile, in addition to the new pictures, Fox — who is engaged to Machine Gun Kelly — also shared fun screenshots of a text conversation between herself and a few friends, in which she seemingly revealed some  qualities she looks for in an ideal partner.
In the first photo, the "Teenage Mutant Ninja Turtles" star replied to an unnamed friend who wrote, "His body was bomb though." Fox responded with a series of sleeping emojis, before adding, "Give me some danger."
After another person texted, "Not my type either mcmegan," Fox continued to list some qualities she likes relationships, including "drama," "toxic" and "dysfunction."
Elsewhere in the conversation, one friend wrote, "Where am I supposed to find a 6'5″ Emo to entangle with tho?'" Fox and two others in the conversation chimed in with suggestions for stores, such as Spencer's Gifts, Hot Topic and Dollz Kill.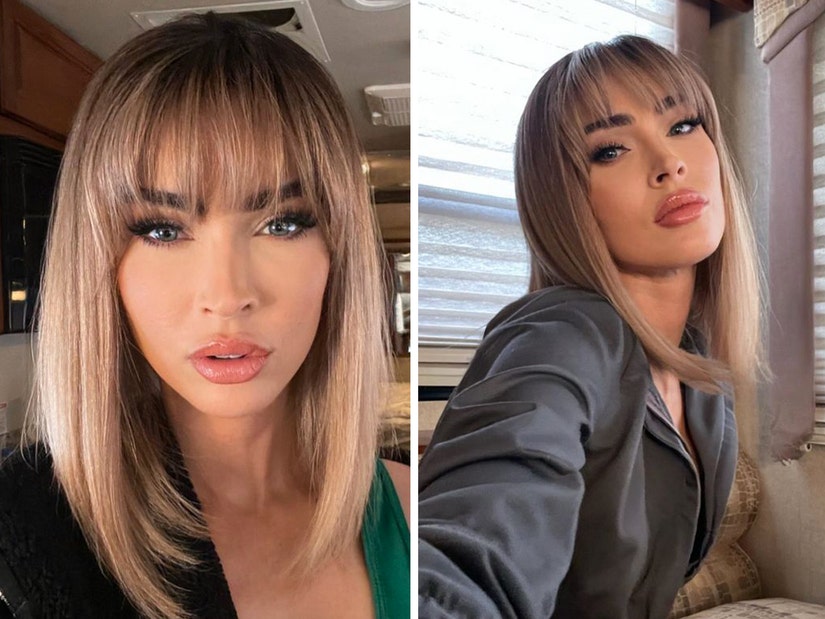 Instagram
The third screenshot featured one of Fox's friends asking, "Where do I find a billionaire with tattoos and a man bun and tall?" The person immediately followed up with, "Trick question. There ain't nunnn."
Appearing to allude to MGK, Fox wrote back, "Mmmhmmmm that's why I stay."
Meanwhile, another person directly replied to the "Till Death" star's remark from earlier regarding "toxic" relationships, writing, "How you have the energy for dis I don't understand."
In reply, Fox joked, "The traumatized and ignored child inside of me loves it."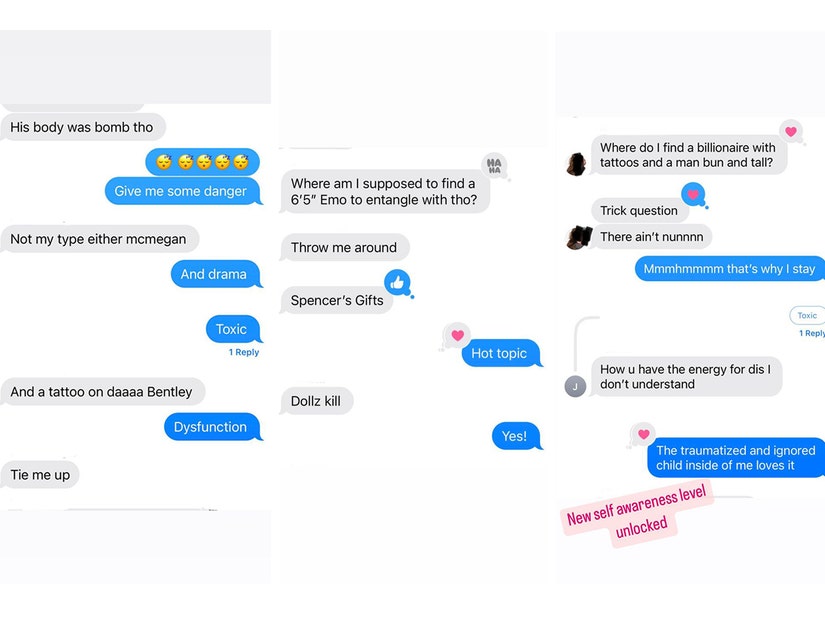 Instagram
Alongside the screenshot on her Instagram Stories, the "Taurus" actress wrote, "New self awareness level unlocked."
And Kelly, 32, also weighed in, reposting Fox's third screenshot from the text conversation to his own Instagram Stories. "ily2 @meganfox," he wrote alongside the image.
Fox and MGK got engaged in January 2022, having first met on the set of Randall Emmett's "Midnight in the Switchgrass" back in March 2020. The two went public with their romance that June.
Before Kelly, Fox was married to Brian Austin Green from 2010 to 2021. The former couple share three sons: Noah, Bodhi and Journey.